Facebooks Libra Coin has been a hotly debated topic in the financial world in recent weeks. The US-American social network giant wants to bring a crypto currency to the market, which is linked to a mix of different assets and should have a stable value. Libra could then be used by all Facebook & Whatsapp users for transactions with partner companies, or to send money to each other. This, of course, has called on critics, especially in the form of financial regulators.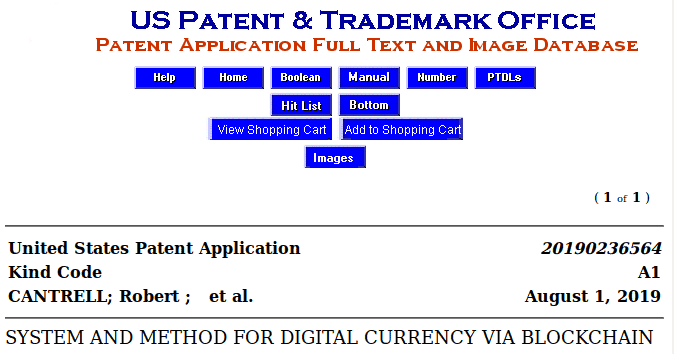 But Facebook is not the only company working on such a crypto currency. Already in January 2019, retail giant Walmart (turnover 2018: USD 500.3 billion; profit 2017: USD 9.9 billion; 2.3 million employees) filed a patent for a crypto currency with the U.S. Patent and Trademark Office. The concept is very similar to that of Libra, whereby the Walmart coin is not to be linked to various assets but exclusively to the US dollar. This is described in the patent description as follows:
"A unit of the digital currency will be linked to a unit of a normal currency; the information of the digital currency will be stored on blocks of a blockchain; the digital currency can be bought; the digital currency can be used to pay".
Like Libra on Facebook, the Walmart Coin is designed to provide an alternative way for often financially weak customers to manage their money and finance solutions. This puts them in direct competition with conventional banks. There would be a large number of customers directly available who could use the Walmart Coin in the branches and with retailers / partners. It would also be suitable for asset management. For example, Walmart would like to credit interest payments to holders of the coin. With Libra, on the other hand, only the partner companies (validators), such as Mastercard & VISA, benefit from the reserve funds that are formed under the programme. A further advantage for the user would be the easy exchange for cash (in US dollars).
"With the digital currency, low-income households that find banks too expensive could find an alternative with an institution that can cover most of their daily needs. – Walmart
The purchase history and the resulting loyalty points would be stored and credited directly to the block chain. The technology would also make it easier to restrict purchases in certain product categories, such as banning minors from buying alcohol/cigarettes. Another conceivable option is to pay the salaries of Walmart employees at Walmart Coin.
For other purposes, Walmart has been experimenting with blockchain technology for some time. To date, the company has filed more than 50 Blockchain-related patents. One of Walmart China's most recent patents includes a blockchain platform for tracing foods such as meat, rice and mushrooms. Together with other companies such as IBM, Merck and KPMG, they are also working on a study on the purchase and sale of pharmaceuticals, where the supply chain could be stored on a blockchain.
Fewer hurdles for Walmart Coin than for Libra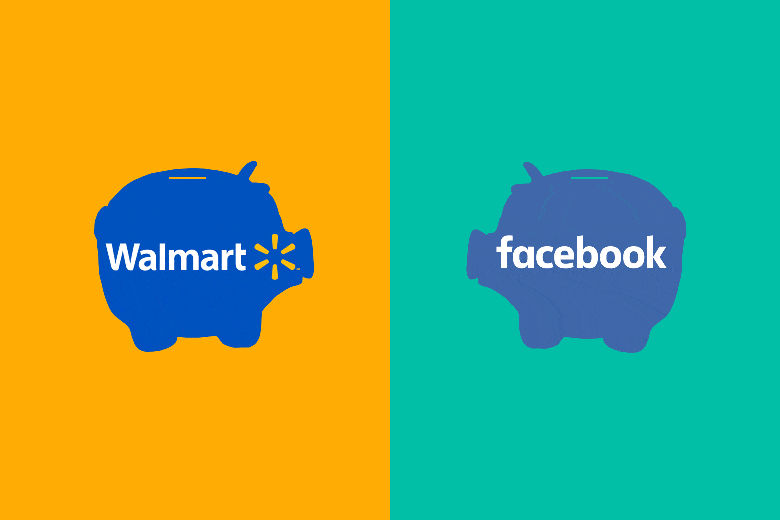 Since Facebook announced Libra, they have been criticized by many international regulators and legislators. FED President Jerome Powell said that Libra would raise "serious concerns" and President Donald Trump was also critical. The legislative side even asked Facebook to stop the current development of Libra. This shows the negative basic attitude towards crypto currencies and concerns about consumer and data protection. It should also be noted that Libra is headquartered in Switzerland (Libra Association) and is not covered solely by the US dollar, but by various currencies and assets.
Walmart has fewer hurdles to overcome in this respect. The Walmart coin, unlike the Libra, would be covered solely by the US dollar. This fact should at least reassure the FED, as it does not have to fear any danger of a parallel "shadow currency" that would drain the dollar of water. It is also very likely that the Walmart Group would initially concentrate on the us market, but that Facebook would be active worldwide.
We can therefore assume that the probability of the government giving the go-ahead for the Walmart coin is much higher than for Libra. However, there is currently no specific launch date, should permission be granted. Altogether the pressure on the policy increases ever more, which must set with the coming decisions over these Coins a trailblazing statement.
Development on the stable coin market: advantages for Walmart
The Walmart Coin could be a complete success from a standing start. Every week more than 250 million customers visit the more than 11,000 Walmart stores, including partner stores, in a total of 27 countries. In comparison, Facebook's user base is quantitatively larger. There are estimates that of 2.7 billion users (Facebook, Whatsapp, Instagram), 2.1 billion use the services daily. With over 30 million Bitcoin Wallets in existence to date, these figures clearly show what an impact such stable coins can have on the growth of the "crypto currencies" market. But only Walmart has an extensive network of buyers ⇔ sellers. This network could use the crypto currency directly in practice and cause a high volume.
Beside Walmart and Libra there are still different large enterprises, which would like to introduce its own crypto currency. Thus also the largest US bank JP Morgan and the insurance company alliance announced its own Stable Coin to which to the US Dollar is to be tied to be able to accomplish around international financial transactions faster and more economically. The Allianz blockchain is already live and will now be extensively tested. JP Morgan is also still in the testing phase and is currently testing the functionalities with a few selected customers.
Cross-border transfers are still very slow and expensive in 2019. The advantages of a stable coin are obvious: the transaction duration is considerably shortened and by using a block chain the transactions can be documented transparently and securely against manipulation. With the Allianz & JPM Coin, companies could process both internal payments and payments from institutional customers.
Conclusion
With the Walmart Coin, the stable coins of international companies continue to gain momentum. In addition to the above-mentioned advantages for companies (cheaper, faster transactions) and customers (simple asset management, cheaper than traditional banks), there are also points of criticism. As a one-stop shop for purchases and financial transactions, customers pass on more personal data to a single entity. This potentially leads to more power for companies like Walmart. In addition to regulators, politicians will also have to address these new power concentrations. Companies like Facebook, which in their history have already had various conflicts with data protection guidelines and consumer protection regulations, will find it particularly difficult to assert themselves.
The new stable coins of the large companies will not compete with the Bitcoin. The only thing they have in common is the use of blockchain technology. The main differences are the peg to the US dollar and the lack of decentralisation. However, the acceptance of crypto currencies could be sustainably increased by these advances.
International corporations could become the banks of the future as a result of these developments. Whether they can replace traditional banks remains to be seen.