The blockchain platform Hedera Hashgraph has announced that it will release its beta version of Mainnet to the public on September 16, 2019. After the release, which will take place under the name "Open Access", developers can create an account and start developing decentralized applications on the Hedera platform.
At the same time, the issuance of the own HBRA token to the investors of the SAFT Token Offering is started. A total of 100 million US dollars were collected in this token. Mance Harmon, co-founder and CEO of Hedera Hashgraph, said that there are already hundreds of developers working on DApps on the platform. This number will now be further increased by the Mainnet Beta Start.
"Open Access also marks the next step in our journey to become the industry's most decentralized, permissionless, public network. At the same time that our mirror nodes are becoming open source and accessible to all, we're also beginning a careful, responsible coin distribution process."
Hashgraph is a further development of the Blockchain technology, which contains a data structure and a special consensus algorithm. The advantages are an enormously high number of possible transactions per second and the increased security through the asynchronous Byzantine Fault Tolerant protocol.
Behind the Hashgraph project is the Hedera Council. This is a group of 39 companies that would like to push the project forward. Among others Boeing, Deutsche Telekom and IBM are involved. In this article I take a closer look at the Hashgraph technology and the upcoming beta launch of the Mainnet.
Hashgrahp (HBAR) ICO Data
| | |
| --- | --- |
| Token Name: | HBAR |
| Protocol: | Hashgraph |
| Raised Funds (SAFT + Public Sale): | |
| Total Supply: | 50.000.000.000 HBAR |
| Token Allocations: | Hedera Council Treasury (65%), Hedera Management & Team (17%), SAFT Investoren und Entwickler (13%), Swirlds Group (5% |
What Exactly is The Hedera Hashgraph?
Hedera Hashgraph is a DLT project and a further developed variant of a standard blockchain. It is based on a DAG (Directed Acyclic Graph). Here, processes are not recorded in a chain, but via an acyclic graph. The system supports decentralized applications and uses an aBFT consensus (Asynchronous Byzantine Fault Tolerance).
The still young blockchain technology offers a multitude of application possibilities. Nevertheless, there are some problems when it comes to the concrete implementation of possible uses on the blockchain. Dr. Leemon Baird, co-founder, CTO and CSO of Hedera Hashgraph, focuses his work for Hedera on the following four aspects:
Performance: Most projects (e.g. Ethereum) can only handle a few transactions per second, making mass implementation of the blockchain in a large number of highly scaled projects impossible and mass adaptation difficult.
Security: With an exponential increase in the use of blockchains by large enterprises, the value of assets and transactions on the blockchain would increase at the same rate. These are to be secured to a greater extent by the aBFT consensus already mentioned than is the case with current blockchains.
Governance: In contrast to the standard blockchain, Hedera's general ledger will be maintained not only by technology but also by IT, business & legal professionals.
Stability: In addition to technical stability, the Hedera Hashgraph will use legal mechanisms to enforce decisions, including KYC and AML.
Difference to Ordinary Blockchains
Hashgraph technology is the data transmission system based on a decentralized protocol. In the blockchain, information is stored in blocks. Each block n depends on the previous block n-1, so these blocks form a single chain, as the name "blockchain" describes. In the hash graph, the participant can also create a transaction, but the information is stored differently when a particular event is formulated. In addition, it is not necessary for the hashgraph to have a proof of work, which makes it more cost-effective for the participants as a system. This makes it faster and more efficient.
There are several elements that should be highlighted:
1.The platform should be fast, secure, and cost-effective.
2. The system should be managed by several (39) organizations, in this case the Hedera Association and not a single one of them should influence the others.
3. Token – there is a native token within the platform that allows it to be used as a utility that allows the creation of dapps and access to additional functions.
The Structure of The Hashgraph Platform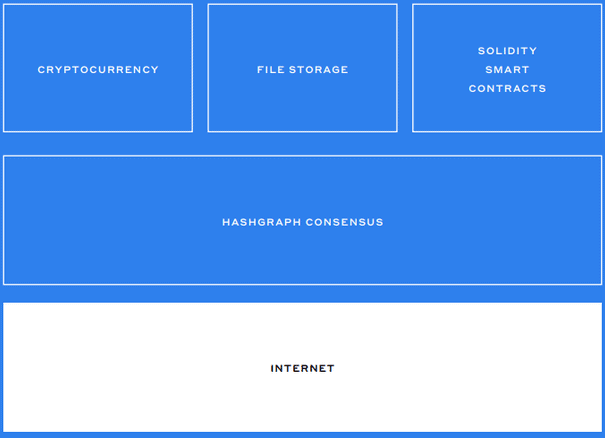 The structure of the platform can be well represented in layers. Below is the Internet, which connects each computer to the platform. In the level above, the Hashgraph consensus is used, which ensures that all processes are fast, secure and fair. The nodes take transactions from the participants or clients and share them with the network via a Gossip protocol.
All nodes execute the consensus algorithm. This automatically creates a cryptographically secure hashgraph data structure. The top level consists of three elements. From a crypto currency, a data storage for the DAG and Smart Contracts, which are written in Solidity just like on Ethereum.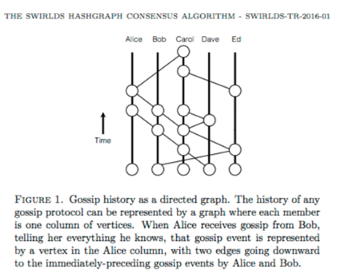 Application Areas of The HBRA Token
Some companies already use the Hedera Hashgraph in their applications:
Carbon: Carbon is a stable coin that correlates with the US dollar. They achieve stability by algorithmically adjusting the overall supply to demand. Carbon promises users a fast, secure and stable crypto currency that is compatible with Smart Contracts and can be used worldwide.
Hearo.fm: Hearo.fm is a global music marketplace for independent artists that enables micropayments with the JAM crypto currency. The aim of Hearo.fm is to democratize access to music distribution worldwide by creating a music industry with micropayments for artists and listeners.
Red Swan: Red Swan is a secure platform for investing in high-quality, tokenized commercial real estate with the liquidity and security of public markets. One of its goals is to expand the current real estate investor base by tokenizing real estate assets. At the same time, they want to provide a single platform that connects buyers, brokers and sellers.
ZEUX: In December 2018, ZEUX announced a strategic partnership with Hedera. ZEUX is a company that wants to integrate traditional financial services such as payments, banking and investments into one app. Thus, Hedera's HBAR token will be listed in the ZEUX App as soon as it is available and can then be used for all POS payments.
Hashgraph Team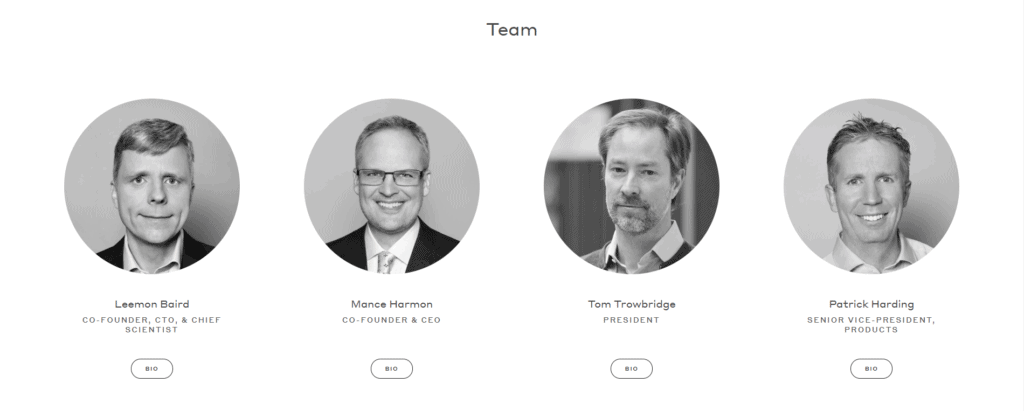 Mance Harmon – Co-Founder and CEO
Harmon has worked for more than two decades in multinational corporations, government agencies and startups. He received a Master's degree in Computer Science from the University of Massachusetts and a Bachelor of Science in Computer Science from Mississippi State University.
Dr. Leemon Baird – Co-Founder and CSO (Chief Scientist Officer)
Leemon Baird is the inventor of the Hashgraph Distributed Consensus algorithm and co-founder and chief scientist of Hedera. He has more than 20 years experience in the tech industry and has served as Professor of Computer Science at the US Air Force Academy.
Mehernosh (Nosh) Mody – Senior Vice President Engineering
Nosh brings 25 years of experience as an Engineering Manager and Technology Manager and is Senior Vice President of Engineering at Hedera. He previously worked at Trend Micro TippingPoint and led research and development at many other startups, including Britestream Networks and Coretrace Corp. Nosh holds a bachelor's degree from the University of Texas and a master's degree in computer science from the University of Massachusetts.
Conclusion: Great expectations for the Hashgraph Mainnet Launch
When you look at Hashgraph, you quickly realize that this project has great ambitions. From a technical point of view, a working DAG with the corresponding consensus algorithm would be a milestone that is far superior to ordinary blockchains. So you can be curious to see how the Mainnet Launch will proceed on September 16th and whether Hedera will be able to pick up speed with the platform.